NAS AND DAMIAN MARLEY - The GRAMMY Museum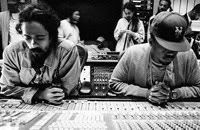 Taking place in the Museum's 200-seat GRAMMY Sound Stage, the two recording artists will field questions from Museum Executive Director Robert Santelli about their upcoming musical project, humanitarian work, and diverse, influential recording careers. After the interview, Nas and Marley will take questions from the audience and perform a few stripped-down songs.
WHO: GRAMMY-winning Reggae king Damian Marley and International Hip-Hop superstar Nas
WHEN: Friday, March 27, 2009 at 8 p.m.
WHERE: The GRAMMY Museum at L.A. LIVE
800 W. Olympic Blvd., Suite 200, Los Angeles, CA 90015
(Near the corner of Figueroa Street and Olympic Boulevard)